From 1 piece to 10,000+ pieces, we can do it all. You won't believe the price and service we extend to our customers. We have no minimum and have no maximum on embroidery orders.



About Our Digitizing



At Our MoJo, we only charge for the digitizing costs, we take a look at the complexity of the design and estimate accordingly. Some digitizing is even free.

If you already have a logo, our expert embroidery staff can transform your logo into a detailed embroidery file so it's ready for printing on hats, sport shirts, jackets and more.

If you don't have a logo, we can design one for you. You can even find a stock design our catalog that would do a good job of describing your organization. We can add text to the stock design to personalize it for your specific needs.

It's important to note that letters need to be at least 0.25 inches tall in order to sew out properly and be legible.

We have access to over 30,000 designs of various sizes, styles and themes. If you're searching our stock design catalog, be sure to note the size of the design so that it fits your required application (for example: a left chest logo is smaller than a full jacket back logo).

For a left chest logo, if any dimension of the design is greater than 2.5 inches, it's too big. We try to keep the embroidery size less than 3.5 inches in any dimension, although there are exceptions to every rule.




Embroidered Monograms, Personalization, Stock Fonts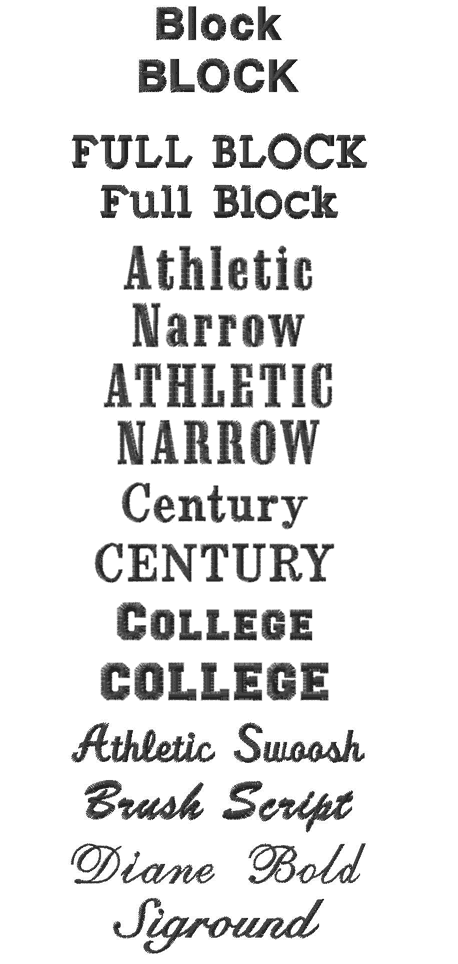 Stock Embroidery Design



We have access to the amazing stock design catalog of Dakota Collectibles….. a collection spanning over 30,000 designs. Click here to view the catalog where you can search by keyword to find a design that fits your needs. Once you find a logo you like, simply make a note of the design number and include it when you call us or email us for a quote.